No Pasaran!
North West Spanish Civil War 1936–1938
Statement:
No Pasaran! is an historical and educational group dedicated to the memories of those men from the Derry, Donegal and Tyrone who with thousands of others from all over Ireland and around the world. Volunteers who came together in a foreign land, sacrificing their lives for an ideal in defense of the Spanish Republic from 1936 to 1938.
Historically on the world stage this was to be one of the largest impassioned showdown between democracy and evil, it was known as the Spanish Civil War, their call was "No Pasaran!" (They Shall Not Pass!)
How you can help?
Our project would like to hear from anyone from the North West who had a family member, a brother, an uncle or a grandfather etc who took part in the international resistance to share their stories and information to pay tribute and to honor their memories.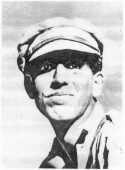 We also welcome anyone who would like to assist us by creating further information for the project to please get in touch. Please do not hesitate to contact the project (via email) if you would like to assist corrections, give additional information or material from stories, photographs or newspaper clippings etc.
From the North West there were names such as, Thomas Traynor (via Toronto), John Murphy (via London), Eamon McGrotty, George Gorman, Jack Flynn, James Donald, James Campbell, Hugh O'Donnell (a stoker), Paddy O'Daire, Paddy Roe McLaughlin, Paddy Glacken, Phil Boyle, Hugh Bonar.
Contact address: xvbrigade@yahoo.ie
---