Paul 'Bonanza' McCann
Tributes from Saoirse, July 1984 (View cover)



TO AN IRISH REVOLUTIONARY
THE FINAL SALUTE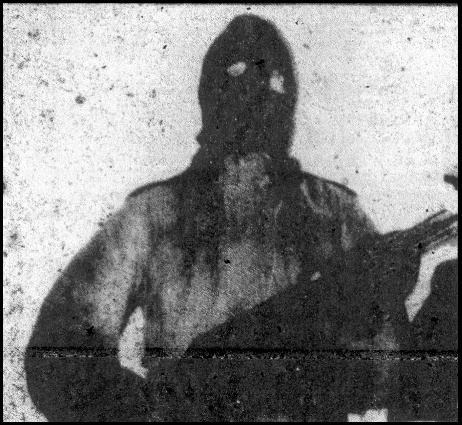 On Monday 18th June over 10,000 mourners attended the funeral of INLA Staff Officer Paul Bonanza McCann who was killed in action engaging the forces of occupation in the early hours of Friday 15th June.

Bonanza's coffin was brought to his parents' house in Spinner Street, off the Falls Road at 4pm Friday. Two INLA volunteers formed a guard of honour in front of the open coffin while a steady flow of people payed their last respects to one of Ireland's greatest revolutionaries.

In an attempt to disrupt the funeral arrangements, several members of the IRSP were arrested and held in Castlereagh on Sunday including chairperson of the Belfast Comhairle Ceanntair IRSP, Kevin McQuillan.

On Sunday evening, Paul McCann's coffin was taken from the house to St. Peter's Chapel in Divis. In an attempt to intimidate mourners and INLA volunteers, the RUC blocked off both ends of Spinner Street with landrovers five minutes before the coffin was due to leave. Despite the heavy RUC and Brit presence, three INLA volunteers, two men and a woman, fired three volleys of shots over Paul's coffin.

As the funeral cortege moved down the Falls Road towards St. Peter's, the RUC blocked the road in an attempt to attack the cortege and remove Paul's beret, belt and gloves. This attempt was thwarted by the local nationalist people who defended the cortege. After a few minutes when Paul's brother ex-blanket prisoner, Fra McCann, remonstrated with the RUC, they withdrew and the funeral cortege continued to St. Peter's.

Requiem Mass took place at 10am on Monday morning and was attended by family, friends, members of the IRSP and Sinn Fein President, Gerry Adams.

The funeral cortege left St. Peter's to go to the Republican Socialist Plot in Milltown Cemetery, the coffin was carried from the chapel by members of the McCann family. The cortege was headed by the Brendan Convery Memorial Band from Bellaghy who carried the Tricolour, Starry Plough and the Belfast Brigade Flag furled with black ribbon. The Neil McMonagle band from Derry followed playing the funeral dirge. The hearse headed by a lone piper playing a lament. The hearse was flanked by a civilian IRSP guard of honour. As the cortege moved up the Falls Road it stopped at Spinner Street for a two minute silence. As it moved off, an INLA guard of honour joined the cortege, this was despite the presence of two RUC landrovers less than 10 yards away.

As the cortege moved off, the RUC and British Army blocked off the junction at the Springfield Road and Falls Road with landrovers and saracens. Local nationalists angry at this blatant attack on a funeral, bombarded the road block with bottles and tins of paint. Mr. Kevin McQuillan spoke with the RUC inspector and they eventually withdrew. The INLA volunteers paid a final salute to their fallen comrade and disappeared into the mourners and the funeral proceeded to Milltown.

At Milltown Cemetery, a large crowd gathered around the grave to hear the oration and personal tributes to Paul from his comrades in struggle. A piper played a last tribute and many wreaths were laid. Paul Bonanza McCann was laid to rest in a manner befitting a soldier of the Irish Revolution.



---

I.N.L.A. G.H.Q. TRIBUTE

The General Headquarters Staff and Volunteers of the Irish National Liberation Army extend their condolences to the family of our of our bravest volunteers, Paul 'Bonanza' McCann, who gave his whole life to the Republican Socialist cause from a very young age. We recognised his complete dedication to the armed struggle from the very day he enlisted with the Lower Falls unit of the INLA. No task was too small, no amount of work for the Movement was big enough for our friend and comrade Bonanza, that is why in such a short period for any volunteer he rose in the ranks of the INLA.

Bonanza had been on the run from the Occupation Forces since they got to know of his involvement with active service units in the Belfast Brigade and he never once feared imprisonment at the hands of the British, even when under these threats he continued to operate within the Belfast area and outside it as well.

Bonanza first became O.C. of the Divis Flats Active Service Unit in 1981 and when we assessed the maturity, courage and initiative of Bonanza we did not take a great amount of time in deciding he was well worth his staff position and even when he accepted the position, he would always say "I'm still going to operate". There is not too many operations that we would say he did not take part in, because he was involved in them all, in one way or the other. He didn't like anyone going out to operate without him at their side because that is what he was in his own words, "an operator".

We in the Irish National Liberation Army cannot express in words our admiration and sense of loss of Paul Bonanza McCann, the youth of Ireland should and will look at the sacrifice he gave for Ireland and take example from him. Ireland, throughout her struggle for freedom has lost many sons and daughters and no doubt will continue to do so for oppression breeds resistance. Paul was one of that rare calibre of guerrilla soldiers, twenty four hours a day, seven days a week freedom fighter, a man who fought the war on all levels, both politically and militarily. Whilst recognising that we can ill afford to lose such a soldier, by his outstanding example he has ensured that his leadership qualities has been passed on to many comrades who fought by his side.

Whilst not being able to express in words our loss we the Irish National Liberation Army re-affirm our committment to the struggle for a 32 County Socialist Republic. In recent days, the RUC have been boasting "inroads" being made into both the INLA and IRA. We state her and now that at this period in time we are reaching the crystalization of our movement, re-structuring training, discipline and logistics will in the not too distant future ensure that we will ram these fool hardy words down their fascist throats.

Finally in the words of Paul himself "There's a war going on", we as his comrades and friends and as participants in that war pledge to his memory to continue to take the war to every extreme until eventual victory.

Onwards to victory and socialism.

Tiocfaidh ar la.



---

I.R.S.P. TRIBUTE

To begin with, on behalf of the Ard Comhairle of the Irish Republican Socialist Party, I would like to extend to the McCann family circle our heartfelt and deepest sympathy. They join many an Irish family who mourn loved ones killed in the struggle against imperialism. We who have suffered so much, endured so much, have no desire to see our families suffer. But we have also no desire to live as an oppressed and brutalised people. Paul had no desire either to see his people, his class suffer oppression and brutality.

At a very early age Vol. Paul Bonanza McCann joined Na Fianna Eireann. Whilst still only in his mid teens he joined the Patsy O'Hara Youth Movement. A short period later he entered the ranks of the Irish National Liberation Army. Due to his high calibre, and ability he was rapidly promoted within the INLA. At the time of his tragic death on active service last Friday, he was a high ranking Staff officer in the Belfast Brigade Irish National Liberation Army. Cut down at the early age of 20, the INLA, and the Irish people as a whole, have been deprived of the services of one of the finest soldiers ever to fight for National Liberation and Socialism.

Vol. Paul McCann suffered constant harassment because of his dedication to the Republican Socialist Movement. The latter stages of his life was marked by constant arrests and almost daily intimidation. Since January of this year, he was arrested a dozen times. Over a month of his last five and a half months were served in either Castlereagh or Gough Barracks. Because of this constant persecution by the RUC/British Army, Paul was forced for his own safety to leave his family home and live elsewhere.

Within the last fortnight Comrade Paul was detained in Gough Barracks. Whilst there he was told that this was to be his last period of detention. Special Branch Officers assured him that he would end up like Ronnie Bunting, and that he would be executed within one month. Other Republican Socialists in Castlereagh at the same time, were likewise informed that Bonanza was due to be killed. Recent remarks by Judge Gibson legitimising the 'shoot-to-kill' tactic, his "wild west" references to bring back persons "dead or alive", and his praise for RUC murderers who bring Republicans to the ultimate "court of justice" can leave the Irish people in no doubt that the RUC/British Army can and will shoot known activists with approval from the highest levels of the state. All of this considered, there can be little wonder why 'Bonanza' felt it necessary to defend himself by all means available to him at the early hours of last Friday when the same RUC/British Army attempted to smash down the door of the Lenadoon house in which he was staying.

Constant attempts have been made to disrupt this funeral today. In the early hours of Sunday morning, seven Republican Socialists, including Belfast Comhairle Ceanntair Chairperson, Kevin McQuillan, were lifted under Section 11 of the E.P.A. Yesterday as the body of our dead comrade was slowly moving from his family home to the chapel, the RUC/British Army blocked the road, and attempted to provoke the grief stricken mourners. In death as in life, they could not leave Paul in peace.

The tenacity and bravery of persons like Vol. Paul McCann ensures that the Republican Socialist Movement, and the struggle of the Irish people as a whole, cannot be broken. Arrests, intimidation, torture and even assassinations of his fellow comrades in the Republican Socialist Movement, inspired by the bravery and self-sacrifice of the Hunger Strikers, Comrade Paul McCann stepped forward, fully aware of the possible dangers, to take the place of these persons. His dedication to James Connolly's Marxist vision - a 32 county Socialist Ireland, where the wage slavery of capitalism would no longer exist, where women would stand equal to men, where imperialist oppression would be a thing of the past - led him to surmount the personal changes he faced. Bonanza's courageous example will inspire others to fulfill the difficult task of taking his place.

Finally I'd like to finish with Bonanza's own favourite phrase, the words which perhaps more than any others will remind his privileged friends of his smiling face, and his outgoing character: "Tiocfaidh ar la".



---

PERSONAL TRIBUTES
TO PAUL (BONANZA) MC CANN
A TRIBUTE TO BONANZA FROM A COMRADE
When I first met Bonanza the thing that struck me was his courage, he was able for anything and any job he was detailed to do.
From the time Paul was a Volunteer up to when he was a Staff Officer no task was too small for him to do.
Most of his first operations were in the Divis Flats and Lower Falls areas were he was a member of an Active Service Unit based in these areas. The occupation forces soon realised what kind of man he was, and I mean man because he was many years ahead of his age when you consider the bravery and initiative he had displayed in the ops he was involved in. So when they started harassing Bonanza and threatened his life, he went on the run to the 26 counties where he was once again active in the INLA border units. But he loved Belfast and its people and he soon returned.
The Brits and RUC soon knew of his return because they were getting hit and hit frequently. They soon started arresting him every couple of weeks and threatening him with death. He laughed it all off with that usual smile which no-one could forget once seen. He never once cared for himself but would go out and look after younger and 'sometimes older' volunteers when there was a job on. He loved to be involved with everything that was going on and no job was too small. They were for the movement and the freedom of his people, which is all he lived and died for.
He recognised the need for a strong movement and any recruits that came into the movement he would sometimes take on the responsibility of giving them extra anti-interrogation lectures and educational talks, he was a revolutionary soldier in every sense.
Just after the Hunger Striker he became OC of his ASU in the Divis/Lower Falls areas and the maturity of the young man amazed many of the movements older members who soon decided he would be a great asset to the Belfast Brigade Staff. There was no delay in moving him from OC of an ASU to a Staff Officers position in which he excelled. But you may as well have told him was Chief of Staff because a rifle was never out of his hands, and he still carried out his duties as an INLA Brigade member.
I was talking to him in the early part of the day he was killed on and I told him to be careful as the RUC had been given a free hand to murder anyone they wished and especially active republicans. As usual he gave me that smile and said "Don't worry". But the tragic happened and not only did I lose a friend I admired and loved but Ireland and the Republican Socialist Movement lost one of its greatest fighters.
The one consolation to us all is that Bonanza died the way he would have wanted, taking some of the enemy with him and he took plenty and not only the night he was killed but also on previous operation. So when I say that he loved Belfast and its people, well the people of Belfast loved Bonanza. I don't know of one single enemy the man had, which was shown in the massive turnout at his funeral.
So I now say with a broken heart "Farewell to my friend, comrade, revolutionary".
Venceremos.