"The Internationals - United with the Spaniards we fight the invader."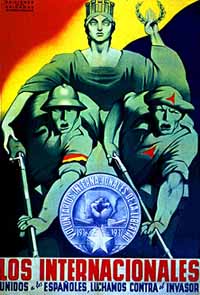 In February 1936, a coalition of left-wing Spanish parties formed the Popular Front to fight elections. Having won, they immediately set about releasing all left-wing political prisoners and introducing a number of agrarian reforms.
In July of the same year, a proclamation of revolt was issues by a number of high ranking army officials, including Emilio Mola, Francisco Franco and José Sanjurjo. A military uprising was threatening the newly elected government.
Spanish workers were the first to organise to defend the Republic. Trade unions armed and began to train their members. The anarcho-syndicalist CNT (National Confederation of Trabajo) and anarchist FAI (Iberian Anarchist Federation) merged and held a dominant position in areas such as Barcelona, Málaga and Valencia. In the first few weeks of the war over 100,000 men joined these militias.
The Nationalist Forces of Franco had the support of the Catholic Church and the wealthy landowners. Hitler and Mussolini both aided the military revolt with arms and men. The only countries whose governments did not turn their back on the Republic were Mexico and the USSR.
Spain became a hotbed of revolution. Land was being annexed by workers and peasants, and collectivised. The war was seen as a microcosm of the international struggle for socialism and thousands of volunteers poured in from around the world to defend the Republic.
One nation that lent its men was Ireland.

These pages are dedicated to the men who went to fight in defence of the Spanish Republic. The men who had fought for Irish freedom and whose internationalism extended beyond words.
Roll of Honour - List of Survivors